John David Middlebro'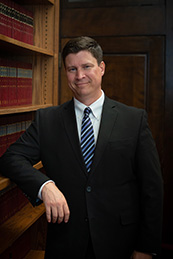 John David became a partner at the firm in 2005. He graduated from Huron College at the University of Western Ontario with an Honours degree in political science in 1996, then attended Windsor Law School and graduated in 1999. He articled with Middlebro' & Stevens LLP and following his call to the bar in 2001, returned to his hometown to practice alongside his father.
John keeps a busy general practice in Real Estate, Corporate and Business Law (including Professional Corporations of all types), Wills, Estates and Trusts, Public Health, and Employment Law. John's court-advocacy work includes business, real estate and trusts cases, and he acts as Prosecutor for several municipalities, government ministries and agencies.
John is a married father of two active teenagers. Aside from practicing law and family, John's other love in life is fly-fishing the local area. He enjoys classical music and is a terrible golfer. John is currently Trustee for a private charitable scholarship trust and, in past he served on the Board of Directors of the Owen Sound Family YMCA.