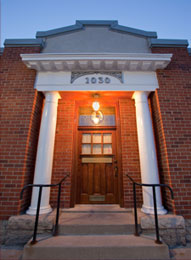 The Firm has its roots in Grey County commencing in the late 1800's with William Sora Middlebro', K.C. who practiced in the late 1800's to the 1940's when he passed away; thence with Charles Christopher Middlebro', Q.C. who practised alone before and after the war, then became a partner with Harold L. Van Wyck when he moved from Hanover, Ontario. The firm became "MIDDLEBRO' & VAN WYCK" from the mid-1940's to 1963 when Charles Christopher passed away.
William Sora Middlebro' was a Life Bencher, a past Mayor of Owen Sound, and a federal Member of Parliament for Grey County. A Village in the south east corner of Manitoba is named "MIDDLEBRO'" in honour of his Parliamentary years.
Charles Christopher Middlebro' was born with only one arm, and was a well-known and respected Crown Attorney during his latter fifteen years of practice (before the Crown Attorney position became a full-time position). His acumen was admired by all because he could do as much or more with one arm as anyone could with two. His community involvement earned him the nickname "Mr. Boy Scout" all around Southwestern Ontario, and indeed in Canada. A Scout Camp located at North Keppel, Grey County is christened "Camp Charlbro" in his memory.
John H. E. Middlebro' commenced the practice of law in 1970 with his cousin, Mr. R. P. Horton, Q.C. (1940-1982, also a nephew of Charles Christopher and cousin to John H. E.) after working three summers and articling (one year) with him. In 1970 the Firm became:
Horton & Middlebro'
John was awarded the "Canada 125th Year Commemorative Medal" by the Governor General of Canada for his Community Involvement. E.P. (Ted) Horton joined John and R. P. Horton (Ted's father) in 1972.
E. J. (Ted) Stevens joined the Firm in 1976, and in 1979 the Firm became:
Horton, Middlebro' & Stevens
Four years later R. P. Horton, Q.C. passed away. In 1983. Edward P. Horton elected to practice law on his own. John H. E. Middlebro' & Edmund J. Stevens moved to the firm's current location in October 1983 and continued a general partnership as

Middlebro' & Stevens
Kelly L. Graham was a summer law student with the firm in 1989 to1991, Articled with the firm in 1992-1993 and joined the firm as a fully practicing solicitor after her call to the Bar in the spring of 1993. John D. Middlebro', was a summer law student with the firm in 1996 to1998, Articled with the firm in 1999/00 and joined the firm as a fully practicing solicitor after his call to the Bar in the spring of 2001.
John D. Middlebro' and Kelly L. Graham were both admitted to partnership in 2005 with John H. E. Middlebro' & Ted Stevens as:
Middlebro' & Stevens LLP
John Sr., Ted, Kelly and John David practiced together until 2013 when John Sr. suddenly passed away.
The Firm continued with the three remaining partners until 2020 when Kelly Graham departed and joined another firm. Sadly, she became deceased after a short illness in mid-2020. Ted and John David continued the practice with their associate lawyers Nicholas Lovell and Alexander Wade, both of whom are 2nd-generation lawyers born to long-time local practitioners David Lovell and Pierre Wade.
In November of 2018, long-time Wiarton solicitor and friend, Peter Pegg invited the Firm to practice in his former location on Berford Street. The Firm opened its second office location to better serve its Bruce County clients and invite Mr. Pegg's clients to continue.
On 1 July 2020, the Firm was pleased to admit associate lawyers Nicholas Lovell and Alexander Wade to partnership after both articled and practised with the Firm, each for several previous years.

The Firm now continues its long practice as a four-lawyer partnership with a wide breadth of legal expertise and local knowledge, with office locations in both Owen Sound and Wiarton, Ontario.
The Firm is and has been a Member of the Grey County and Bruce County Law Associations continuously since 1970.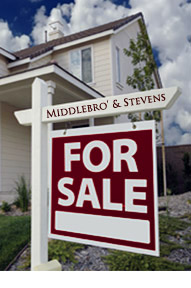 Buyers:
We can help explain the terms of your purchase contract, review legal documents that pertain to your title, mortgage, and taxes, register legal documents pertaining to your transaction, and ensure that you possess valid ownership documentation, while protecting you from hidden liabilities with respect to your contracts and ownership.
Sellers:
We will ensure that your sale agreement terms adequately protect your interests, deal with issues that arise with your title, represent you during negotiations and closing, and explain your responsibilites and liabilities during the process.
To learn more about our real estate services, contact us today.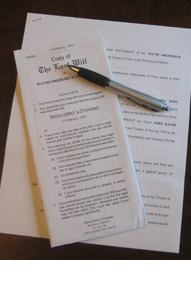 Estate planning allows you to provide for your family by creating a will, establishing a power of attorney or living will, making funeral arrangements in advance, and more. If you're ready to begin the estate planning process, you need the help of an attorney with the knowledge to protect the interests of you and your loved ones.
Middlebro' & Stevens offers a comprehensive range of estate law services, including:
- Long-term care provisions
- End-of-life arrangements
- Estate administration
Our team of legal professionals will treat you with the respect you deserve. You can expect attentive, personalized service at every step in the legal process. Whether it's planning for your family's future, executing a loved one's will, or working through the probate process, we're ready to help. Contact us today.
In addition to safely storing its own clients' wills and powers of attorney, Middlebro' & Stevens LLP is proud to be the storage repository for estate planning documents drawn by several former lawyers who have ceased practice:
Alan E. Marsh (of Owen Sound)
Harold (Hal) A. Lendon (of Owen Sound)
Pierre A. Wade (of Owen Sound)
Peter R. Pegg (of Wiarton)
Roger M. Morris (of Wiarton)